Parents and Grandparents Program: All you need to know
Wouldn't it be a dream for you to bring your parents to Canada and create precious memories together? As our parents grow older, they need us, their grownup kids, to take care of them and spend time with them. It is also very crucial for our little ones to spend time with their loving grandparents.
Canada always emphasizes the importance of bringing families together, so that we can call this land our home. If you are a permanent resident or citizen in Canada, who is looking for options to bring their parents and even grandparents to live in Canada then keep reading.
What is the Parent Grandparents Program?
The Parent Grandparent Program is an immigration program in Canada under the Family Stream. It allows Canadian Citizens or Permanent Residents to sponsor their parents and grandparents to come and live in Canada as permanent residents.
This program is different from the Super Visa program. The Super Visa program allows them to stay for a short term as temporary visitors. If all the eligibility criteria are met, Super Visa can be availed at any time.
On the contrary, the Parents and Grandparents Program accepts applications only once a year.
Who can Sponsor Parents or Grandparents?
Unlike many other immigration programs, for the Parent Grandparents Sponsorship program, you have to be invited by the IRCC to be able to submit your application. You can not just fill out the application form and send it to them.
Being invited is a must. In addition to that, there are several criteria that you have to fulfill to be able to apply. You have to make sure that:
You are at least 18 years old

You live in Canada

You're a Canadian citizen, a permanent resident of Canada, or the person registered in Canada as an Indian under the Canadian Indian Act

You have enough money to support the people you want to sponsor.

You meet all other requirements under the Immigration and Refugee Protection Act and the Immigration and Refugee Protection Regulations

You promise to financially support the people you are sponsoring.
This is called an undertaking. The undertaking means that you are making a commitment to financial support for your sponsor family members for 20 years starting when they become permanent residents. You will be responsible for your sponsored family members food enter clothing Center utilities personality comments shelter fuel household supplies Health Care not covered by public health insurance
This undertaking also binds you to repay any provincial social assistance first bracket money from government black and close your sponsored family members get during that time.
This agreement is still valid even in the case of marriage, separation or divorce, unemployment, change in finances, and the death of the main applicant if you also sponsor their family members.
Who is not eligible to sponsor a parent or grandparent
A person who has not been invited by IRCC to apply

is less than 18 years old

will not live in Canada when they use to sponsor their parents and grandparents and or when the parents and grandparents become permanent residents

is not a permanent resident or a citizen

is in jail or did not pay back an immigration loan a performance bond or court order family support payments
How to apply for parent grandparent sponsorship program
Once you make sure that you meet all the criteria of being a sponsor, you have to submit the Interest to Sponsor form to IRCC. The opportunity to submit this form is available for a limited time each year. After the time limit, IRCC closes access to the form.
After the submission window closes, IRCC reviews the applications for discrepancies and removes duplicate applications.
Then a random draw takes place to select a certain number of potential sponsors.
How will I know if I was invited to apply to sponsor my parents and grandparents?
Everyone who submits interest to the sponsor form gets a confirmation number. The status of your 'Interest to Sponsor' is periodically updated on the IRCC site. Using your confirmation number you can check whether you received the invitation or not. If your 'Interest to Sponsor' gets selected by the random draw, the status will get updated for your confirmation number on the IRCC website. Also, IRCC will send you an email containing an invitation for you to apply for the sponsorship program. In the email, they will also mention a timeline by which you must apply to sponsor.
How can I show proof of income to sponsor my parents and grandparents?
The proof of income is shown by your Notice of Assessment that you receive every year from Canada Revenue Agency (CRA) after you successfully file your taxes. You need to send IRCC or give them access to each of the three taxation years immediately before the date of your application.
Sponsors living in Quebec
If you live in Quebec, then the sponsorship application processing will be done differently. If your sponsorship application gets approved, then you will be instructed to submit an undertaking application to the Quebec ministry in charge of immigration. This ministry will be the one assessing your income.
You must wait until you receive an instruction from IRCC to submit your undertaking application otherwise, Quebec will not process your application.
How much income do I need to sponsor my parents and grandparents?
As the sponsor, you have to prove that you have enough financial ability to guarantee that you are going to financially support the people you are sponsoring to come to Canada. In many cases, the sponsor might include their spouse as a co-signer, to add their income to reach the set amount of income per person, that is predetermined by IRCC.
For instance, if you receive your invitation to submit your application in 2023, you have to provide the Notices of Assessment that you received from the Canadian Revenue Agency CRA, in 2019, 2020, and 2021. If you already have the Notice of Assessment for the year 2022, then it will be 2020, 2021, and 2022.
However, if your income is not as per the given income level, then you can add your spouse's income by including them as the co-signer.
Now, the income you have to have each year depends on the number of people you want to sponsor.
Check the table below to see the amounts set for sponsors who applied in 2021.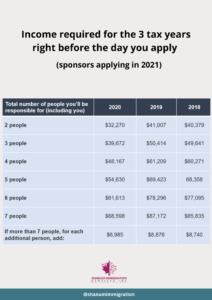 What counts as income for sponsoring my parents and grandparents?
Your total income on line 150 of your Notice of Assessment (NOA) from the Canada Revenue Agency (CRA) will be counted towards your income.
The following payments or earnings will be subtracted from your total income:
Payments received from the province to attend training programs

Social Assistance

Any resettlement assistance program payment

Regular Employment Insurance earnings for 2019, 2020 and 2021 tax years

Old Age Security payments
The following incomes don't count:
Employment Insurance special benefits i.e. maternity and parental benefits

Employment Insurance earnings for the 2020 tax year

Canada Emergency Response Benefit

Paid parental leave

RSP/RRSP withdrawals
Still got some questions? Book an appointment with our expert and licensed Immigration Consultant and be prepared for the upcoming Parent Grandparent Sponsorship program.
For regular updates, please subscribe to our newsletter.